The Newfoundland Chocolate Company
Wide selection of chocolates.
This is a must try line of European chocolate all the way from St. John's, NF! They offer a mouth-watering array of fabulous flavours like Blueberry Biscotti Truffle in Milk Chocolate to Screech Coffee Hazelnut Truffle in Dark Chocolate. But don't take my word for it you really must try it for yourself.
NUT FREE Chocolate
We have a great company who uses fine Belgian chocolate to create wonderfully delicious treats in a 100% NUT FREE ZONE! No more worries about what to buy your friends and family members for any special occasion. We have: suckers, boxed assorted chocolates, chocolate covered pretzels, chocolate in chips and melts which you can substitute into any recipe, fondues, fountains and cocoa powder too!
Our Chocolate
We have a worldly selection of European chocolates in every flavour imaginable! From coffee bean crunches to Turkish delight, hand rolled truffles to nut clusters. Something to satisfy everyone's favourite!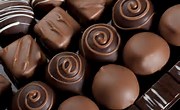 Sugar Free Chocolates
Are you diabetic, or just want to watch your sugar intake? Have no fear, we have dozens of delectable sugar free, that's right SUGAR FREE chocolates to choose from. They are still made with the finest of Belgian chocolate, but without the sugar. The best part of it all is that there is no awful after taste that most sugar free products have.
The chocolate is made with a sugar substitute called maltitol. A substitute that works best in pastries, candy and chocolate because it is not absorbed into the blood stream as so many others are. Therefore, it does not affect your blood sugar levels in the same way as other products. Ah, the best of both worlds, yes you can have your chocolate and eat it too!
Chocolate Covered Candy
Tickleberries from the Okanagan Other Candy and Goody Suppliers…
For those of you who want a sweet and savoury gift basket, we have seasoned crackers, spices, dips and more… yum, yum!
Have you ever tried a TICKLEBERRY? What the heck is a tickleberry you ask? Well, they are the most delectable chocolate covered dried fruit, straight from the Okanagan, you will ever try. Blueberries, strawberries, apricots, cherries, cranberries, and the latest, raspberries. Just be warned, they are definitely addictive!
But really, anything you may be craving, we have…like chocolate covered potato chips!! I know, crazy, but sooo good! And if you haven't tried a Truffle Pig, well you really must! And if you're thing is more of a candy related one, we have the amazing Jelly Belly Jelly Beans, in a staggering array of flavours where you can pick and choose your favourites. And the super fun Ticklesticks, which are sure to kill that can candy craving…till next time.
These are just a few samples of the suppliers that help make our business a success.
To Make or Not to Make… Chocolate and Cake Decorating Supplies too
For all of you chocolatiers out there, we even have all your chocolate supplies to keep your creative side alive. What makes a better homemade gift than chocolates made from scratch? (and remember, there are always mistakes that need to be eaten).
We have everything you need for your chocolate making expedition. From plastic moulds, in every shape imaginable, to chocolate foils, candy paintbrushes, flavour oils and of course…bulk Belgian chocolate! We carry a great assortment of chocolate moulds and can usually source the ones we don't.
Never made chocolates before in your life? No problem, we have very knowledgeable staff that can help you with the step by step instructions, or books that you can take home and read yourself. No matter what, you'll have a blast making your own personal creations!
We also carry cake decorating items like icing colours, sprinkles, sparkle gels, and can order cake pans, tips or most anything Wilton Candy carries, so just ask.
Chocolate covered raisins, cherries, orange slices & strawberries all count as fruit, so eat as many as you want.
The problem: How to get 2 pounds of chocolate home from the store in hot car. The solution: Eat it in the parking lot.
Diet tip: Eat a chocolate bar before each meal. It'll take the edge off your appetite and you'll eat less.
A nice box of chocolates can provide your total daily intake of calories in one place. Isn't that handy?
If you can't eat all your chocolate, it will keep in the freezer. But if you can't eat all your chocolate, what's wrong with you?
If calories are an issue, store your chocolate on top of the fridge. Calories are afraid of heights, and they will jump out of the chocolate to protect themselves.
If I eat equal amounts of dark chocolate and white chocolate, is that a balanced diet? Don't they actually counteract each other?
Money talks. Chocolate sings.
Chocolate has many preservatives. Preservatives make you look younger.
Q. Why is there no such organization as Chocoholics Anonymous?
A. Because no one wants to quit.
If not for chocolate, there would be no need for control top pantyhose. An entire garment industry would be devastated.
Put "eat chocolate" at the top of your list of things to do today. That way, at least you'll get one thing done.
Things you may not know about Chocolate:
Chocolate with a high cocoa content is a good indicator of a quality chocolate. Look for chocolate that contains cocoa butter, and not other vegetable fats. They will have a smoother texture and a more chocolatey taste.
Check that the chocolate is made with real, not imitation, vanilla bean. Imitation vanilla gives the chocolate a chemical taste.
Note the sugar content, as a lot of sugar, especially in bittersweet and semisweet chocolates is often an attempt to conceal the flavours of poor quality cocoa beans.
The length of the ingredient list should be short. Good chocolate will not have a long list of additives. The proportion of each component will determine the chocolate colour:
Dark chocolate can contain up to 70% of cocoa.
Milk chocolate contains milk powder
White chocolate is only made from cocoa butter, sugar and milk without cocoa.
The lingering effects of individual chocolates in the mouth, referred to as "aftertaste", is the last quality to watch for. A good chocolate will not disappear immediately, but will leave subtle and pleasant sensations in the mouth.
Did You Know…
Almost 50 percent of all women crave chocolate at one point or another but especially during menstruation or when they are under stress (so that would mean all the time ha ha).
Like red wine, chocolate contains antioxidants that may reduce heart disease. Even small amounts of the stuff can aid in this prevention.
A wine chemist at the University of California found that one and a half ounces of milk chocolate contains almost the same amount of phenols (good antioxidants in grape juice and wine) as a five ounce glass of red wine.
Chocolate also contains iron, calcium, potassium and magnesium. And it's the magnesium that may help ease the symptoms of PMS. So ladies, take your vitamins!
Chocolate aids in mental and physical performance which gives you a quick boost and can even help people drive safer as research at the University of Bristol has found.
So next time you crave that piece of chocolate, don't fight it you're really self-medicating. But remember, everything in moderation.