Votives, Tapers and Pillars...Oh My!
We are your one-stop shop for all types of candles in Fort McMurray. The lines we carry make soy based candles in tealights, votives and jar candles. The jars you all love for their easy-peazy, user friendly attitude.
We have all the candles you could need: short ones, tall ones, skinny ones, aromatic ones, scent-free ones…well, you get the idea.
Looking for a couple of yummy scents to have in your kitchen so it smells like fresh baked goodies, at all times? Apple Pie is for you! How about that calming smell that your grandmother used to have spread all over her house, we have that one too – Lavender! You're not into all those chocolatey, nutty and flowery smells…but you love fruit scents? We have so many to chose from, why not take a bite out of our delicious tropical scents?

We carry a fabulous line of candles in all kinds of wonderfully delicious scents from Earth Elements of BC.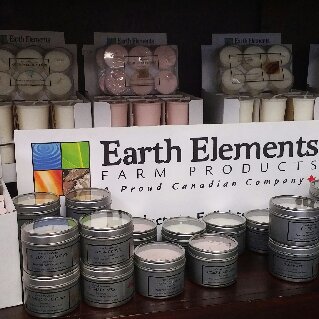 Ahhh, Rest, Relaxation and….Bath Products!
We carry O'Canada Soap, a line made in Canmore, AB by a lady who "knows her stuff".  She was an esthetician for years and was continually concerned with the additives she was seeing in all the products.  So she decided to create her own using aromatherapy oils and all natural products; the only stuff we should be putting on our skin!  Soap for everyone from baby to mom and dad with gift sets for when you just can't decide.
Hark! Do I hear Wedding Bells?
Have a wedding to plan? As difficult as that may seem in Fort McMurray, we have you covered from invitations and decorations to giveaways or favours. Need some unique ideas, just give us a call so we can help you customize them for your special day.  Phone (780) 743-3878


We can also supply favour tags, engraved matchbooks, napkins and anything your planning heart desires…


Of course, you can't forget to give your guests something to go home with to remember the event by….the wedding favours!  You can also check out Wedding Star online, a company from Medicine Hat who offers hundreds of ideas.  We are an authorized retailer for them, so place your order with us with shipping of 10 – 14 days.


If you are not the chocolate loving type (for some odd reason) we have several other wedding favour ideas to help create that perfect wedding, such as individually wrapped scented votives or boxes of Jelly Belly jelly beans. Just give us a minute, and we'll help you fill your mind with tons of excellent ideas!